7 WordPress Development Trends to Follow Right Now
WordPress is one of the most used and dominant CMS globally. It offers a wide variety of themes and plugins to change the appearance and functionality of the website.
One of the greater benefits of having a WordPress website is that it offers cost-effective web solutions, as it is an open-source platform, so it has no license fees for using its core software.
WordPress keeps on updating its core time-to-time to offer steady web development solutions. Because of its adaptability to improve its core, it is being highly used by users around the globe.
The platform keeps improving its technical aspect or providing the latest trends to keep your website secure and easy to use.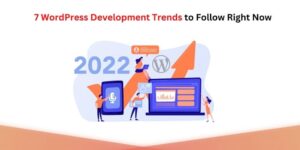 To make your website effective by using these trends, you can partner with the right WordPress development company to develop a feature-rich website for your business. The hired development company can develop your website, keeping the latest WordPress trends in mind.
However, over the period of time, WordPress has provided several valuable Trends to its users. So, keep reading this blog to learn about the trends you should follow right now for your web solutions.
Major WordPress Trends to Follow Right Now
1. Drag and Drop Page Builders
Page builders are one of the emerging trends on WordPress that you can follow right now. You can create, edit, and customize your website with the page builder. These come with live editing on the frontend portion of the page, but you can move around the backend page builder elements. It makes the development process of a website much more flexible, easier, and of course, a lot faster.
There are various page builders, such as Elementor, DIVI, WPBakery, and so on, to choose from. However, the worthwhile decision is that you can partner with the WordPress development company to develop an appealing website by effectively using their expertise.
2. Headless WordPress
It is evident from the name of the WordPress trend that headless means head is the front-end, and body is the back-end of the website. It works on the decoupled architecture, separating the front-end and back-end of the website. Users can develop the front end of the website according to their needs.
You can extend your content management built-in WordPress by utilizing the REST APIs. The best thing about using Headless WordPress is that it future-proofs your content on WordPress.
In terms of migrating content, Headless provides greater flexibility as it does not bound through any plugin or a theme. It has become one of the preferred options for businesses looking to deliver content through diverse platforms, such as Android and iOS.
The major benefits of using headless WordPress is that it offers greater control, helps increase the scalability of your website, enhances security, and so on.
3. WordPress VIP
You have assumed it right; it is depicted by the name, WordPress is no longer limited to only small or medium size businesses. Keeping in mind the vast traffic of enterprise websites, WordPress VIP came live. For enterprise-level businesses, WordPress VIP is an excellent choice to have.
Being a business, you can maximize the effectiveness of the content you provide to your users by deploying the power of WordPress VIP. Major companies such as Shopify, Facebook, TechCrunch, and so on use WordPress VIP for massive traffic.
It is developed to the requirements of large-scale enterprises. It lets you assign user data, publish content, etc. Furthermore, it offers user-friendly analytics, which helps scrutinize the performance of your content. t is a secure platform with full authentication of traffic and so on.
WordPress has come a long way. To excel, you should be aware of these wordpress web development trends.
4. Text-to-Speech
WordPress offers various plugins to add specific functionality to the website. But, adding a feature to improve the accessibility of your website is one of a kind. Some specific plugins do the same; they can read your text aloud, making it accessible to more comprehensive users.
This functionality is helpful for those who face difficulties with literacy, learning, reading, and vision but want to gain some information. With the help of this trend on WordPress, they can grab the required information.
Also, the plugin is mainly used to read out the longer texts on the websites.
There are numerous text-to-speech plugins, such as Responsive Voice text-to-speech, beyond words, etc., to choose from. It smoothens the reading part of the content and makes it easier to access. It also improves the engagement ratio of the website.
However, to make your website more accessible to a broad user base, you can hire a reliable WordPress development partner for an entire website.
5. WordPress for eCommerce
With the continuous rise in the number of customers, the eCommerce market is attaining a significant boom in the industry. WordPress has its plugins for eCommerce, such as WooCommerce, Big Data, etc.
WooCommerce is one of the widely utilized eCommerce platforms. According to the project, its versatility and simplicity make this plugin different from others. Business owners can create and sell their products online. It is one of the most used eCommerce plugins of WordPress.
You can too create your eCommerce store and start selling your products online if you are looking to attain the boom of this industry. Its trends are centered on creating better customer service, enhancing product pages, improving SEO and optimization tools, and so on.
6. Chatbot Integration
Chatbots are the latest trend used by websites to conduct the conversion between human beings and the bot. These are conversational tools that can perform routine tasks efficiently.
The chatbots provide a great sort of customer handling facility in solving the user's queries. It simplifies their user experience and assists them in knowing more about the product or the concern they are looking for in your website.
Chatbots are effective in enhancing customer service, such as it minimizes wait times and 24*7 availability, serving as an extension of customer service, being customizable according to the requirements of your potential clients, the conversation filled with professionalism, and so on.
You can invest in WordPress development services to efficiently use chatbots on your website.
7. Technology Integration
WordPress is one of the supreme when it comes to timely updates of the technology. You can benefit your business with the latest technology advancements in WordPress. The latest technology advancements include AR/VR, AI, Voice Search, and so on.
These advancements are fruitful to the growth of a business in more significant ways. For instance, voice search on a website removes the hustle of typing and searching for the query. It simplifies the search and makes it more accessible to users of every kind.
WordPress AI trends are the proven game changers in the market. For example, you can uncover new possibilities for improvement with website analytics also proves helpful in the automation process. As automation reduces the time to do a particular work, it is also budget-friendly as it reduces operational costs.
To make it an elusive website with all the potential to do anything related to user needs, you can shake hands with the WordPress development company.
Conclusion
So, there you have it, the on-demand market trends of WordPress you can follow right now to capture a large portion of the market. The key takeaway from this article is that WordPress trends are in flux, and you must know what you can implement on your website right now.
The major point you must focus on is that WordPress is a robust and powerful platform for developing websites. Its varied benefits make it a reliable, versatile, and trustworthy platform. Keeping in mind the trends of WordPress, you can create a website using WordPress.
In addition to using new tools and techniques, you can invest in a WordPress development company to build a simple, secure, and excellent website for your business.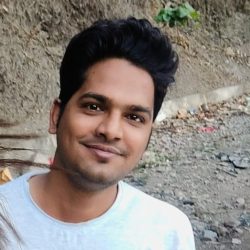 Latest posts by Karan Singh
(see all)