Who Can Open A Demat Account?
The concept of Investing is gaining popularity nowadays. Although most Indian individuals are free to begin investing in the stock market without much compliance, there are a few considerations that are essential before opening a Demat Account. Anyone who is a resident of India who is 18 years of age or older and possesses a PAN card is eligible to register for a Demat Account. To open a Demat Account online, you'll need to upload your PAN card, proof of address, and a copy of a canceled check.
How Does a Demat Account Work?
Your Demat Account is assigned with a unique ID that allows companies to properly identify you when crediting and debiting shares from your account. The Demat, Trading and Bank Accounts are all linked together. The Trading Account uses monies from your Bank Account and shares from your Demat Account to execute share trades. Simply put, the shares you buy using your Trading Account are credited to your Demat Account online, and the monies you used to buy them are debited from your Bank Account. Likewise, when you sell shares, the profits are deducted from your Demat Account and deposited into your Bank Account.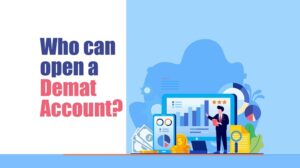 In India, Who is eligible to register a Demat Account?
When it comes to the prerequisites for opening a Demat account, there are no specifically fixed eligibility criteria. You can open a Demat account irrespective of your age, educational background, or work experience. You may feel that the minimum age for a Demat account should be 18 years, however, this is not the case. If you are under the age of 18, you can open a minor Demat account. Let's look at the additional conditions for obtaining a Demat Account online in India.
Who is eligible to open a Demat Account?
When it comes to stock market investments, newcomers are frequently unsure where to begin. Investing in stocks is a straightforward process. All you need is a bank, a Demat account, and a trading account. A Demat account is similar to a bank account for your shares; it is an account that stores your securities when you acquire them and debits your account when you sell them. The following individuals are eligible to open a Demat Account:
Resident Individual
You can apply for a Demat Account if you are an Indian resident individual. According to the regulations, a person is a resident if he or she spent at least 60 days in India in the previous year and at least 365 days in the four years preceding the current year. These Resident Individuals can be minors as well.
Hindu Undivided Family
HUF is a legal entity that takes the shape of a single-family unit with pooled assets from the family lineage. For all tax purposes, a HUF is treated as a single entity. It will have its own tax identification number (PAN) and will file tax returns as a single entity. 
As a result, HUFs can open a Demat Account for trading. For all trading and Demat account transactions, a Demat account for HUF is formed in the name of the leader of the oldest male member of the family. Unless otherwise provided, Karta becomes the signature authority.
Domestic Business
Domestic Businesses are another type of investor who can open a Demat Account. A 'domestic company,' according to Section 2 (22A) of the Income Tax Act 1961, is an Indian corporation or any other firm that is taxed under the Act. Within India, such a corporation will declare its earnings and pay dividends from them.
Non-Citizen Indians
Is it possible for NRIs to open a Demat Account in India? Yes, NRIs can trade in Indian capital markets by opening a NRI Demat Account with their preferred Depository Participant.  They simply need to tell the broker or DP that their account is an NRI account on the account opening form. 
To open a Demat Account Online, NRIs do not need permission from regulators such as the Reserve Bank of India or the Stocks and Exchange Board of India (SEBI), but they must open separate accounts for repatriable and non-repatriable stocks. A person residing outside India who is either an Indian citizen or of Indian descent is referred to as a Non-Resident Indian (NRI).
Who Isn't Eligible for a Demat Account
A coin always has two sides to it. While the majority of the doors are open to those wishing to register a Demat Account online and begin trading, a few are closed. Let's try to figure out who can't just go ahead and register a Demat account in India:
A person who is a foreign national who has a foreign passport

If

you are an adult citizen of India but do not yet have a valid PAN Card

If you don't have a bank account yet, you'll need to open one before opening a Demat Account
There could be a few more factors that can prevent you from obtaining a Demat account. Make sure you have all of the authentic documentation listed in the section below before attempting to open a Demat Account.
Documents Required to Open a Demat Account
When it comes to opening a Demat Account Online, there is some essential documentation required to complete the process. The following is a list of such documents that you will need to complete the process:
Account Opening Form

Complete your KYC

PAN Card (Mandatory)

Identity Proof
Voter ID

Aadhar Card

Passport

Driving License

Bank Statement
Address Proof
Ration Card

Voter ID

Electricity Bill

Bank Passbook

Bank Proof

Canceled Cheque

Passbook

Bank Signature
Signature

Passport-Size Photo

Income Proof

Salary Slips

ITR (Income Tax Returns)
Conclusion
Because Demat Accounts are administered by India's major depositories, setting up a Demat account is as simple as signing up for a social media account. Simply ensure that you have all of the required papers to start a Demat Account.
Furthermore, it is critical to register an account with a stockbroker who can provide you with the greatest services while avoiding any hidden or additional fees. So, if you're ready to start investing in the stock market, get your Demat Account opened right now!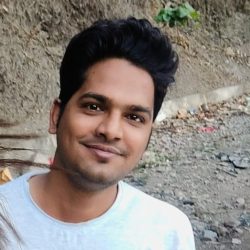 Latest posts by Karan Singh
(see all)