The Best Paint Colors for Large Rooms in 2023
Finding the perfect paint color for a large and open room might be as tricky as figuring out its layout. Generally, neutral hues act as a backdrop to any design as they easily flow from one place to another. However, neutral color doesn't always refer to stark white.
But picking the best paint color for your interior painting project isn't as challenging as it seems if you consider a few things before painting them. Check out the seven paint colors to explore for larger rooms below for better insight.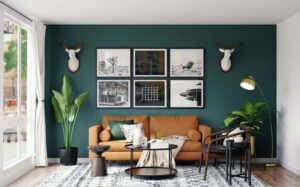 What are the Best Paint Colors for Large Rooms? 7 Hues to Explore!
When painting a broad and open room, you have many paint color options. After all, bigger rooms are the perfect canvas for experimenting with color! But the hues you pick largely depend on how you want the space to look and feel.
For instance, if you're going to use the room for entertainment, bright and bold hues are your best bet! On the other hand, spaces for relaxation blend well with softer colors.
If you're looking for inspiration, here are seven paint colors to try on large rooms:
1. Cool Off-White
If you're painting a dark room, it's best to use cool off-white as it can brighten it up by allowing it to make the most out of the little natural light it gets. But generally, it's like any other neutral color you can use in different settings.
For example, if your living space already has plenty of color patterns, using cool off-white as the background can make them stand out. Overall, cool off-white is an excellent pick for large rooms—casual or formal.
2. Sage Green
Sage green is a lighter shade of green that works well with yellows and blues. But aside from that, it's a generally versatile hue, and you can use it in various larger rooms. It can be a welcoming color that's either relaxing or energizing.
As a result, you can use the hue to create a backdrop and make any room the home's centerpiece. Besides that, sage green is also an excellent pick for people who have witnessed the many hues of green dominating 2022 but don't want to settle with something too overbearing.
3. Taupe
If you don't want to explore bolder colors and want to keep it neutral, go for taupe. It's another neutral hue that works well with big rooms. Taupe has a grayish tone, but it isn't part of the grayscale. As a result, taupe can work well in large rooms with little natural light.
Aside from that, taupe also works great with bright white trim hues, serving as a soft and neutral backdrop. But it can blend well with green, blue, and gray!
4. Cream
Another neutral paint color perfect for larger rooms is cream. It's a warmer shade of cool off-white, which works excellent with massive, darker rooms. You may also notice that this hue has slight hints of gold or yellowish undertones.
Creams work well with other warm colors like green, tan, brown, and yellow. Therefore, you can often see cream in rooms with natural wood-toned furniture. Overall, this paint color can make your space cozier and welcoming.
5. Terracotta
Are you looking to try a new paint color? Look no further than terracotta. It's a one-of-kind hue combining red, orange, and brown—giving you an iron-rich reddish, brownish color. Terracotta has become a popular paint hue for bigger rooms with ample natural light due to its rich yet warm tone.
Additionally, terracotta mixes well with natural wood tones and various shades of green. You can mix and match your furniture to make a pleasant and all-natural aesthetic for your big rooms.
6. Repose Gray
Repose Gray is one of the best neutral paint colors for larger rooms as it's both whimsical, solid, and most importantly, chic! It balances warm and cool tones excellently, making any space feel calmer and cozy!
7. Navy
Navy is a good paint color to consider if you're working on a larger room with ample natural lighting. It has a cool shade with slights undertones of gray, exuding a relaxing and classy vibe. Aside from that, you can also use this hue with different accent colors, ranging from green to purple.
But if you're feeling a bit more adventurous, you may also pair navy with bolder hues like bright red and yellow. It adds a sophisticated yet more dramatic appeal. You may also add cream or pure white trims to your walls to highlight this paint color more.
Conclusion
Giving bigger rooms a fresh coat of paint won't only give them a new look, but it also adds more life! With this guide in mind, picking the right paint color should be a piece of cake. And if you're having difficulty choosing a hue, you can never go wrong with the paint colors above.
So, what are you waiting for? Apply a new hue to your dull, outdated, and larger rooms for a much-needed upgrade, making them feel and look like new spaces altogether.
But if you're unsure when the best time is to paint your rooms this year, call a professional painting contractor in your area. They'd be delighted to help you with your painting needs at home.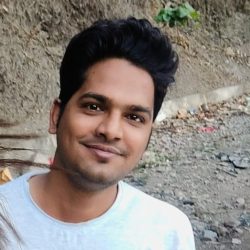 Latest posts by Karan Singh
(see all)