5 Effective Ways to Improve Your Email Marketing? Tips for Successful Campaigns
In the realm of digital marketing, emails are quite important. 
Firms, agencies, and other sorts of organizations may use their great efficiency and usability to grow their reach and increase sales.
In this blog post, we will give you 5 effective ways to help you refine your email marketing strategy. 
What is Email Marketing!? 
There was a period when critical letters and also product information were written on plain paper and sent to individuals in order to attract customers or transmit information about a product or service.
When you need to inform people about a new service or product that you are selling in the market, all you have to do nowadays in this modern digital age is create an Email or (Electronic mail) and send it to your target audience from your computer or mobile phone, and that is it!
Emails are a powerful marketing technique that practically every marketing business uses due to their simplicity and reach.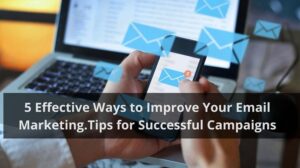 Here Are 5 Effective Ways To Improve Your Email Marketing? Tips for Successful Campaigns
Now that we have been through the intro on what Email Marketing is and what are its benefits, let us now look at 5 different ways to improve your email marketing.
1. Know Your Target Audience 
Before you start writing content for your marketing emails, it is critical that you know who your target audience is and what they want.
Use your analytics and whatever other information you can get about your prospects since no one wants to be flooded with emails for things they do not need or are not interested in.
It is essential for getting started since it gives you the information you need to figure out what your email marketing plan should be.
It is critical to understand all of your audience's primary insights so you can adapt your message to their individual demands and expectations.
2. Personalize and Specify Your Email Content
Make sure you have an active list of all the people who have shown an interest in getting marketing emails from you.
Maintain that list and add fresh contacts to it so that your list stays current and you can reach out to newer prospects with your emails.
Keep your email content focused and personalized.
This ensures that the information in your marketing email is specifically tailored to the recipient, such as incorporating his or her name in the subject line or the introduction.
This ensures your prospect that this is not simply another marketing email attempting to persuade them to buy anything; rather it is an email that acknowledges the prospect and introduces him or her to the service or product being offered.
3. Keep Your Content Relevant and To the Point
People nowadays have a greater probability to jump over anything that they view to be either excessively long or irrelevant, which indicates they will skip over your content.
It is critical that you create content that is not just concise but also related to your strategy.
Keep track of your word count and use a word counter online to check your word density, page count, sentence count and character count.
The number of words in any sort or category of information is crucial.
Every part of content, regardless of its format, is defined by a set of word count standards.
Also, make sure your material is not uninteresting or bland, as this will not generate any leads.
4. Integrate a lead Magnet
A lead magnet is a no-cost offer that you add to the email you send to potential customers.
The nature and goal of the free gift, which might be anything from a voucher to a free trial or test sample, a webinar, a free consultation, a self-assessment questionnaire, a cheat sheet, and so on, thus it is called a lead magnet.
These are lead magnets that entice prospects by providing something for free so that the target audience may have a taste of the service or product being offered.
Your click-through rate will be greater if your content is more specialized and targeted.
A decent offer is never turned down.
Make sure to provide genuine offers that will compel the user to act.
Persuading someone to visit your website or purchase what you have to offer via email takes them one step closer to being a customer.
5. Show Benefits Rather Than Features
People anticipate gaining from the services and or goods they purchase and it is a fact. 
Only secondary considerations for the consumer are the features of a product or services.
It is critical that we establish the benefits that the prospect will gain from the advertised business and or services in the prospect's mind, as this will begin the contact with the assumption that the email is for the receiver's benefit and not just a sales pitch.
Advantages of Email Marketing
Emails are one of the most successful and simple ways to connect with your target audience and convert them from leads to loyal customers. 
Here are a few of the advantages of email marketing.
It Is Straightforward and Swift
As previously said emails are one of the most direct and clear means available today for connecting with potential clients, making it very simple for firms to develop an entire marketing plan around them.
Global and Efficient Communication Tool
Emails are one of the most widely used communication services in the world, and they may be used for both academic and corporate purposes, making them multipurpose. 
Emails have been around for a long time and have shown to be one of the most effective communication tools for a variety of situations.
Easy and Effective
Emails are simple to use and provide an efficient means of contact between you and your prospect.
Emails may even be written by a kid, but writing emails specialized in generating leads and increasing your outreach requires a thorough approach and study.
Gives You Control and Evaluation
You have total ownership of all information and complete access to your conversations with emails since you own the leads that you produce.
You may save all of your emails in a secure location where you can organize them and utilize them to improve your future emails.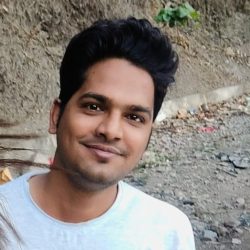 Latest posts by Karan Singh
(see all)